Books & Books owner Mitch Kaplan's first recommendations of the new year include the latest magical-realist fable from a literary lion, a treatise on gun violence in America, and a short-story collection that explores migration, hope and sacrifice spanning two continents.
FICTION
The Faraway World by Patricia Engel
Patricia Engel, acclaimed novelist behind the best-selling Infinite Country, returns to her longtime bailiwick, the short story, for this collection of 10 self-contained tales of characters striving and sacrificing across the Americas. Engel wrote the pieces one by one over the past decade, but their thematic linkages are striking, and center on migrations and diasporas. In one, a Cuban woman discovers that her late brother's bones have been stolen, just as the love of her life appears for a one-night visit; in another, a young woman's twin sister appears, leaving a gaping vacancy in her family unit; and in the discomfiting "Guapa," a woman often ridiculed for her weight leaves her native Colombia for New York, where she sets about redesigning her body, one plastic surgery at a time, to satisfy society's double standards. Engel will appear in person at 7 p.m. Feb. 3 at Books & Books in Coral Gables to discuss her work; RSVP for it here.
Victory City by Salman Rushdie
Rushdie's first novel to be released since he was stabbed by a Muslim extremist in August 2022, Victory City is, in and of itself, unlikely to earn the 75-year-old literary giant another fatwa: It is, after all, far too subtle, too historical and too reliant on metaphor and nuance, which should mean it's a perfect fit for his avid readers. Rushdie's 15th novel, Victory City is set in 14th-century India, the author's ancestral homeland, where, in the wake of a trivial battle between warring kingdoms, a 9-year-old orphaned girl named Pampa Kampana becomes the human vessel for a mythical goddess. In channeling this divine being, Pampa will be granted the power to seed an entire city—called Bisnaga, or "victory city"—that will, unlike ancient India's patriarchal rule, respect its genders equally. But this hopeful goal is, as in so many Rushdie novels, only the beginning of a centuries-spanning saga that has as much to say about the present day as the author's magical-realist world-building. The book releases Feb. 7 and is available through preorder from Books & Books.
NONFICTION
Bloodbath Nation by Paul Auster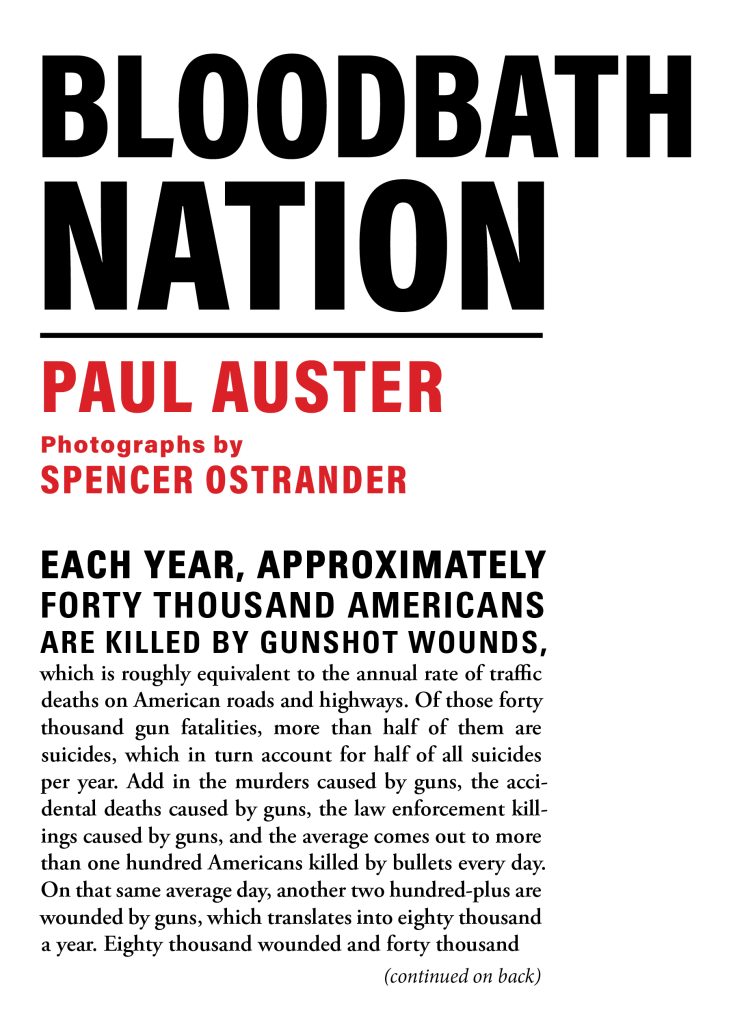 This latest work from the prolific novelist/screenwriter/poet/investigative reporter Auster adopts a garish, 48-point title to jolt us from our complacency before we reach page one. The subject of Bloodbath Nation is America's obsession with guns and the violence it has inspired, and Auster takes both a macro and micro perspective. For the latter, he shares his personal history with firearms, dating to the toy six-shooters that inoculated him from an early age, to a family tree shaken by gun violence: His grandmother shot and killed her estranged husband, in front of Auster's uncle. Switching from memoir to polemic, Auster also charts the country's long arc of gun violence, which was structurally embedded in both the forced removal of indigenous Americans and the scourge of slavery, to the mass shootings that continue to wreck havoc on a daily basis (more than one and a half million Americans have been killed by guns since 1968). Augmented by haunting photographs of shooting sites by Spencer Ostrander, Auster's research hardly makes for a beach read, but it sounds like a necessary insight into a distinctly American condition.
MEMOIR
My What If Year by Alisha Fernandez Miranda
What if you had crested the top of your high-powered professional field, and then decided to, for a full year, abandon the C-suite and embark on an unpaid pilgrimage to all the jobs you desired but never achieved? That's the premise of this debut book—a self-described "coming-of-middle-age memoir"—from Cuban-American Miami native Alisha Fernandez Miranda. At the dawn of 2020, Miranda took a yearlong sabbatical from running the consulting firm I.G. Advisors, using the time to intern at any number of dream jobs. To wit, while navigating the chaos of a global pandemic, Miranda manages to land training positions on Broadway, where she has a literal run-in with the late Stephen Sondheim; on the multimillion-dollar art auction circuit; in a forward-thinking fitness studio called Retroglow; and at a posh kitchen in a hotel restaurant in the United Kingdom. Brimming with humor and self-reflection, My What If Year aims to prove that second chances are within reach, regardless of one's age and stature. You can preorder the book, which releases Feb. 7, and/or attend "An Evening With Alisha Fernandez" at 6 p.m. Feb. 11 at Books & Books.
---
For more of Boca magazine's arts and entertainment coverage, click here.