When it's done well, as is the case with the Wick Theatre's current revival, "Anything Goes" almost renders my job moot. The 1934-vintage musical is so self-consciously silly that it effectively disarms one's critical faculties, such that I sat there for two and a half hours with a stupid smile plastered on my face, letting the groaning puns and farcical inanity of the script—and, most importantly, the enduring, singular wit of Cole Porter's songs—win me over in spite of myself. The word "frothy" is usually used to describe the show. I surrendered to the froth.
"Anything Goes" is set on a luxury cruise liner, the SS American, a traditional double-decker set designed with beauty and functionality by Ardean Landhuis. The vessel is bound for London, and it will be an eventful one for the clutch of passengers whose romantic and criminal pursuits we follow. There's Billy Crocker (Jeremy Benton), a stockbroker who stows away on the ship to woo his beloved, the delicate debutante Hope Harcourt (Alexandra Van Hasselt). Hope, for her part, is set to marry a foppish English noble, Evelyn Oakleigh (Paul Louis), an arrangement that neither actually wants. Nightclub singer Reno Sweeney (Aaron Bower), meanwhile, is lovesick for Billy, though he only enjoys her company as a friend.
Complicating matters is the two-bit gangster Moonface Martin (Barry Pearl), who smuggles himself onto the ship disguised as a priest, abetted by Erma (Leah Sessa), the girlfriend of his more dangerous, and curiously unseen, partner in crime, "Snake Eyes" Johnson. There's also the matter of Billy's boss Elisha Whitney (Troy Stanley), who must never discover his employee has defied his orders and found his aboard the ship.
The cast, an eclectic mix of comedic triple threats from Broadway and South Florida alike, performs with the sort of chemistry and unified vision that's any director's dream. To single out just a few: As Moonface Martin, Pearl is a bottomless trove of deadpan charms, inspired impressions and cockeyed optimism. Erma is a delightful fit for Leah Sessa's boundless enthusiasm.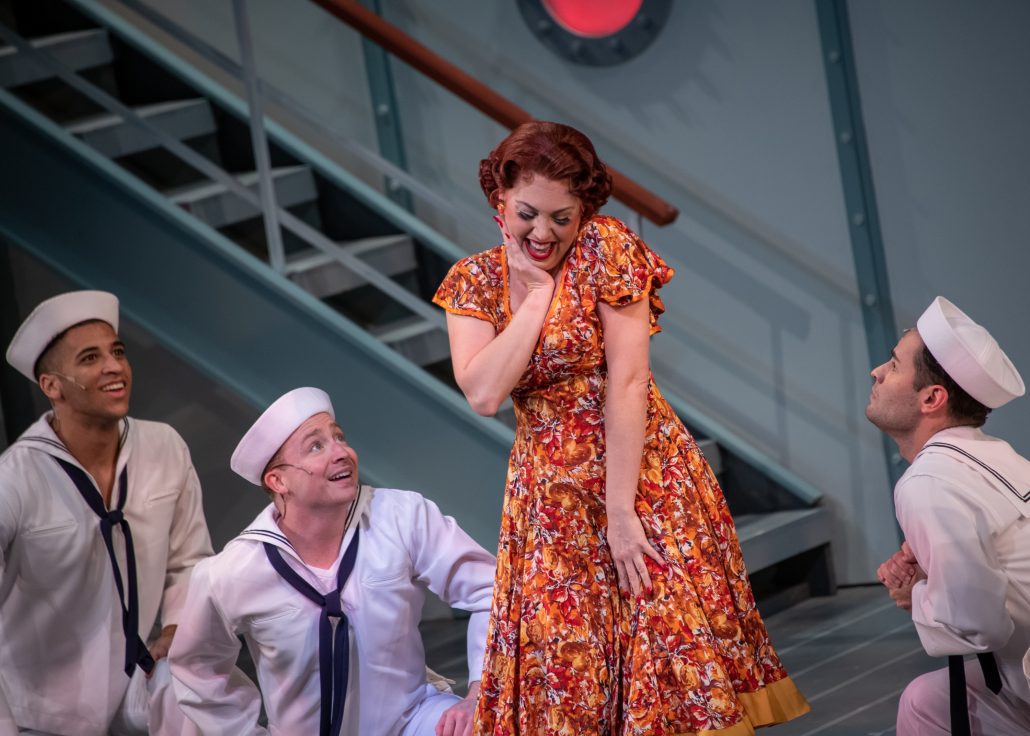 And while the ship's captain is capably played by Matthew Buffalo, it's really Aaron Bower who seems to be captaining the show: Whether adding her own seductive little touch to "I Get a Kick Out of You," charging like a bull in her hilarious duet with Louis' Evelyn, or leading an extraordinary tap-dancing extravaganza, she is such a magnetic presence onstage that we have to wonder why, in god's name, Billy Crocker hasn't seen it from the beginning. In terms of the story, her "Blow, Gabriel, Blow" is a narrative time suck, adding nothing. But as a showcase for Bower, it's indispensable.
Much of this success must also go to director Norb Joerder, who keeps the action moving with machinelike efficiency, and maintains a tone that's as bubbly as a Champagne toast. Oren Korenblum's tap-heavy, fleet-footed choreography challenges the cast, pushing them to the brink of ecstasy and exhaustion, with echoes of Busby Berkeley glamour. And while I always miss the immediacy of live music at the Wick, the action here is so absorbing that I almost forgot there wasn't a live orchestra in a pit down below.
And not that he needs any more praise, but Cole Porter's contributions are, of course, delectable, with their ingenious rhymes and culturally omnivorous references: The Nile, Eugene O'Neill, Camembert cheese and broccoli are all somehow convincingly deployed by either Billy or Reno as compliments to each other in "You're the Top."
But in a weak production—I would point to the soggy 2015 Broadway tour that played the Broward Center—the music is all that keeps the ship afloat. At the Wick, even the dialogue seems to sing. As an escapist entertainment, "Anything Goes" will surely never rise to a level of capital-A art, but the Wick's production takes its frivolity seriously on every level. To quote one of Porter's contemporaries, who could ask for anything more?
"Anything Goes" runs through Feb. 12 at the Wick Theatre, 7901 N. Federal Highway, Boca Raton. Tickets cost $79-$99. Call 561/995-2333 or visit thewick.org.
---
For more of Boca magazine's arts and entertainment coverage, click here.