The South Florida social season kicked into high gear in September with no slow down in sight. The social scene here isn't just about glitz and glamor; it's also a kaleidoscope of compassion. Here's your roundup of society events!
Boca Ballroom Battle
It was a record-breaking Boca Ballroom Battle for the George Snow Scholarship Fund as $1.2 million was raised by eight community dancers who paired up with Fred Astaire Boca Raton dance professionals to compete on the dance floor and in fundraising. Nearly one thousand people gathered at The Boca Raton to cheer them on and support deserving local scholars. This year's fundraising winners were Dr. Patricio Espinosa (who raised more than $200,000) and Danielle Rosse (who raised more than $300,000). Shoshana Davidowitz, Caroline Johnson, Lawrence Levy, Jamie Sauer, Rick Versace and Brad Winstead also raised amazing totals and rocked the night!
Mayors Ball
Who's who, dignitaries, and business and community leaders showed up in elegant style for the 8th Annual Boca Raton Mayors Ball. Hosted by the Rotary Club Downtown Boca Raton on Nov. 11 at Boca West Country Club, the event paid homage to the City's historic iconic milestones and honored all those who have helped make Boca Raton the best place to live, work and play. Co-chairs Jon and Bonnie Kaye and honorary co-chairs Jessie and Alex Price presented this year's George Long Awards to the Boca Raton Airport Authority, Faulk Center for Counseling and Marta Batmasian. Boca Raton Regional Hospital received the Club's Dr. Ira Gelb Health & Wellness Visionary Award.
Business of Sports in Boca Raton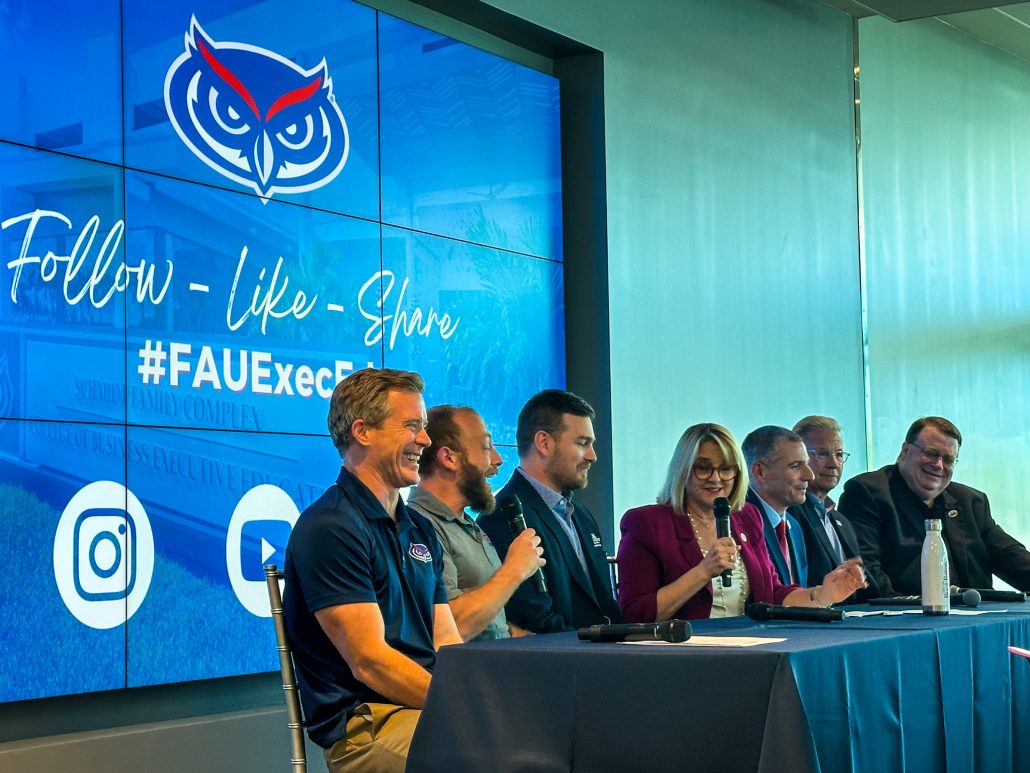 Sports is booming in South Florida and so much of the action is happening right here in Boca Raton. Top executives from Palm Beach County shared their expertise and insight at the Business of Sports event on the campus of FAU presented by the RoofClaim.com Boca Raton Bowl. The panel included FAU Owl's Men's Basketball Head Coach Dusty May, TimberTech Championship Co-Executive Director Ken Kennerly, Palm Beach County Sports Commission Executive Director George Linley, FAU MBA in Sport Management Program Assistant Director Dan Cornely, ESPN West Palm On-Air Host Ken LaVicka and RoofClaim.com Boca Raton Bowl Executive Director Doug Mosley. Tickets for the Dec. 21 RoofClaim.com Boca Raton Bowl go on sale Dec 3.
Peaceful Mind Peaceful Life
Every holiday season needs a little Barb and Michelle in the mix. Mother-daughter duo Barb Schmidt and Michelle Maros continue to spread good vibes, inspiration and wellness techniques throughout the world via their nonprofit, Peaceful Mind Peaceful Life. The organization's season kicked off with a clarity and balance workshop on Oct. 4 at Royal Palm Yacht & Country Club. Next up, the Sugar Jar with Yasmine Cheyenne will be held at BRiC on Dec. 2 from 10 a.m.-12 p.m. focusing on creating boundaries, embracing self-healing and enjoying the sweet things in life. Save the date for Mindful Boca 2024 as Peaceful Mind Peaceful Life welcomes bestselling author and novelist Elizabeth Gilbert (Eat Pray Love) on Feb. 1 at Lynn University!
BeautyBoca 2023
The very best of Boca Raton beauty, style, fashion, and wellness came together for BeautyBoca 2023, a unique one-day showcase and celebration of the city's top brands, businesses, and personalities in the industry. The inaugural event, sponsored by Boca magazine and held at the Addison on Oct. 26, gathered leading names including New York City fashion designer Jesus Estrada (who launched the Estrada Collection live), celebrity makeup artist Tim Quinn, legendary stylist Peter Coppola (of Peter's Place Hair & Color), the Luxe Makeup and Beauty Lounge team, Gro Yoga and Wellness, En Vogue, Raise the Bar Menswear, THOS Fashion School, Gravity + Oxygen Fitness and dozens of other local talents.
Follow The Paige Kornblue Show and Blog at PaigeKornblue.com and @PaigeKornblueMedia for Community, News, Sports, Travel and more!