The Palm Beaches get a new film festival, Whitney Houston's doppelganger tours the Kravis, and Theatre Lab welcomes the Apocalypse. Plus, Merz Trio and more in your week ahead.
WEDNESDAY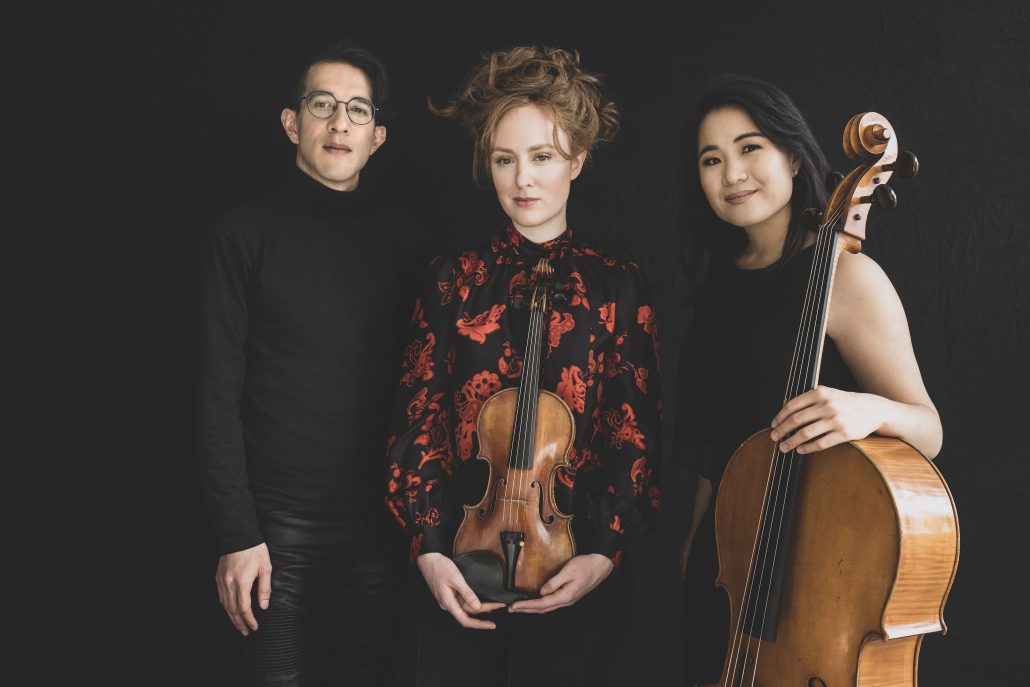 What: Merz Trio
When: 2 p.m.
Where: Duncan Theatre at Palm Beach State College, 4200 S. Congress Ave., Lake Worth
Cost: $35
Contact: 561/868-3309, duncantheatre.org
As their official bio states, the members of Merz Trio—violinist Brigid Coleridge, cellist Julia Yang and pianist Lee Dionne, met "in the middle of a snowstorm in NYC in December 2016 … and now we spend the majority of our lives together." Named after a term coined by German polymath Kurt Schwitters, who believed that art can only occur in shared spaces, the Merz Trio has shared its space with disparate other creatives, from puppeteers to chefs, film directors to dancers. Not to mention poets: The award-winning group's 2021 debut album, Ink, deconstructs Ravel's Piano Trio in A minor of 1914, breaking it up into four movements interspersed with poetic spoken word from Jean Cocteau and others, and even popular songs of the period.
THURSDAY
What: Opening night of Donald M. Ephraim Palm Beach International Film Festival
When: 7 p.m.
Where: Kravis Center's Cohen Pavilion, 701 Okeechobee Blvd., West Palm Beach
Cost: $60, includes refreshments (tickets $10-16 for most other festival screenings)
Contact: 561/318-0060, dmepbff.org
The former Palm Beach International Film Festival may have gone the way of the dodo, but this worthy replacement is resurrecting its global spirit. The inaugural Donald M. Ephraim Palm Beach International Film Festival will present nearly 40 features, documentaries and shorts from 20 countries, at movie theaters that span the county—from Paragon Delray Marketplace to CMX Wellington, and from Movies of Lake Worth to CMX Downtown at the Gardens. The festival opens Thursday with the French comedy "Two Tickets to Greece," about a pair of middle-aged women whose onetime dream trip to Amorgos isn't exactly the fantasy they imagined in middle school. Some of the movie's notable actors, including Laure Calamy, Kristin Scott Thomas and Olivia Côte, will appear in person. For the remainder of the festival's films and schedule, visit the website above.
What: "The Greatest Love of All: A Tribute to Whitney Houston"
When: 8 p.m.
Where: Kravis Center's Cohen Pavilion, 701 Okeechobee Blvd., West Palm Beach
Cost: $25-$75
Contact: 561/832-7469, kravis.org
Whitney Houston's posthumous resurgence continues with this tribute concert, which celebrates the music and memory of the legendary R&B star. Supplemented by a live band, backup singers and choreographed dancers, "The Greatest Love of All" replicates a Houston concert from the vocalist's prime, a re-creation fronted by South African singer Belinda Davids, who beat out nearly 15,000 other hopefuls for this production. How accurate and soaring is Davids' range? Once, following a recital in Hong Kong, she was asked to repeat "I Will Always Love You" a cappella, because the audience couldn't believe she wasn't lip-synching to a Houston track. See her belt "I Wanna Dance With Somebody," "How Will I Know," "One Moment in Time" and plenty more.
SATURDAY
What: Opening night of "Last Night in Inwood"
When: 7:30 p.m.
Where: Theatre Lab at FAU, 777 Glades Road, Boca Raton
Cost: $35-$45
Contact: 561/297-6124, fauevents.com
A long-awaited COVID cancelation from Theatre Lab's previous season, "Last Night in Inwood" is being resuscitated this season; there's still no better way to welcome Armageddon. In this world-premiere play by Alix Sobler, Manhattan is in the throes of the apocalypse, leaving its frantic islanders scrambling literally for higher ground: in this case Danny's one-bedroom apartment in Inwood. As it fills up with her family and friends, they all must survive each other to survive the end of the world. With a stellar cast including Aubrey Alson, Patti Gardner, Jovon Jacobs, Lynette Adames and Avi Hoffman, Theatre Lab's production runs through Feb. 12.
SATURDAY AND SUNDAY
What: Blue Man Group
When: 8 p.m. Saturday, 1 and 6:30 p.m. Sunday
Where: Kravis Center, 701 Okeechobee Blvd., West Palm Beach
Cost: $29-$114
Contact: 561/832-7469, kravis.org
Part percussionists, part clowns, part acrobatic showmen and part mimes, the "people of color" of the Blue Man Group have been entertaining audiences with their performance art for the past 35 years. The group, which is now part of the Cirque Du Soleil empire, is a testament to the power of wordless creativity and storytelling. The Blue Men have performed for 50 million people on 25 countries, and have broken 23 thousand drumsticks. This tour features all new music, choreography, stunts and audience interaction but adheres to the BMG's signature strengths: three guys with shaved heads and cobalt makeup pounding drums of their own invention, with explosions of multicolored paint often accompanying each powerful whack.
---
For more of Boca magazine's arts and entertainment coverage, click here.