"We're booming."
That's how Anthea Gianniotes described Delray Beach during a late-July interview. She ought to know.
Gianniotes runs the city's development services department. Through it come all building applications. These days, the staff has trouble keeping up. From East Atlantic Avenue near the ocean to Congress Avenue, major and minor projects are forming the newest phase of Delray Beach's transformation that emerged from the early 1990s recession. There is new housing. There is new office space. There are new entertainment options.
Like the rest of South Florida, Delray Beach is benefiting from the pandemic-influenced surge of residents and businesses from the Northeast and Midwest. But the city remains uniquely attractive on its own to investors.
Private money, however, isn't going throughout the city evenly. Many of the minority-heavy northwest and southwest neighborhoods, despite some investments, still await their full transformation, like areas east of Swinton Avenue. As happened three decades ago with the Decade of Excellence bonds, Delray Beach is using public money—most of it from the community redevelopment agency—to prime the pump in those areas.
If all that wasn't enough, Delray Beach soon will start spending $120 million from two construction bonds that voters approved last March. Most will go toward public safety projects, the biggest share for a new police station. Another $20 million will upgrade parks. The water plant, a vital project that is scheduled to start operating in 2026, will cost between $100 million and $120 million, based on early estimates.
For all the focus on high-profile projects such as Atlantic Crossing and Sundy Village, much new demand is for custom-built, single-family homes, whether rebuilds or teardowns. Philadelphia-based Stamm Development Group opened a Delray Beach office during the pandemic and has become a major player in that market. Delray Beach-based Azure Development and Seaside are others.
"It's been crazy," says Chuck Halberg, president of Stuart & Shelby Development, which has operated in the city since 2006. He notes that while higher interest rates might be hurting large projects, many single-family buyers are paying cash.
Halberg cited the example of a 2,400-square-foot home on a small lot on Southwest Fifth Avenue. That's far from the buzz of East Atlantic Avenue. The property sold for $600,000 in March 2021 and for $825,000 six months later. In late July, it was on the market for $1.29 million.
Regularly within Delray Beach comes the debate about how to balance development with "village by the sea" charm. It arose during the March elections. Incumbent City Commissioner Juli Casale and former Commissioner Angie Gray accused their opponents, Rob Long and Angela Burns, of supporting unchecked growth. They lost.
Commissioner Ryan Boylston, running for mayor next March, has faced the same criticism. With Delray Beach "booming," Boylston offers a different narrative, one that supporters of Long and Burns articulated.
"Name me another coastal city," Boylston says, "that has done a better job of managing growth." He notes that Parks of Delray, the residential project on Congress Avenue, got barely half the density the developer could have obtained. The four-story height limit remains in effect on Atlantic Avenue.
Meanwhile, Fort Lauderdale and West Palm Beach regularly approve high-rises of 40 stories and up. Delray Beach's downtown density remains below those in Boca Raton and Boynton Beach.
During his five years, Boylston said, the commission has approved just five large, multifamily projects—Parks at Delray, Alexan, Aura, Delray Central and The Linton. None was very controversial. Despite those approvals, Delray Beach remains well below the amount of housing set out in the city's comprehensive plan to accommodate current and future populations—especially affordable housing.
"We're a hot town," Boylston said, "but a lot of developers stay out. We ask a lot." The city also is continuing an effort that began several years ago to update all of Delray Beach's development regulations.
Another reason that some developers avoid the city is Delray Beach's duplicative review process. It breaks up components such as density, height and the site plan and assigns responsibility to the commission, the planning and zoning board, and the site plan review and appearance board.
It also requires review by the commission of countless minor details. Does the commission, as happened recently, need to decide whether a homeowner can use Benjamin Moore Sterling Light Grey for stucco walls and a Taco Bell can use Sherwin-Williams Brainstorm Bronze for part of its walls?
This system burdens the staff, Gianniotes says, because they write multiple reports for different reviews. When we spoke, she hoped to present a streamlined system to the commission in August or September. She called it the department's "highest priority."
The goal, Gianniotes says, would be to "look at projects holistically" rather than piecemeal. Staff could provide "a better review." Applicants from developers to homeowners could get answers sooner. Staff could handle those minor details.
Jordana Jarjura, a former commissioner, is president of Delray Beach-based Menin Development. She says streamlining also would make things clearer for people who oppose a project and find that what they thought was the final vote wasn't the final vote. "There's frustration either way."
Downtown Development Authority Executive Director Laura Simon says her members support such a change. Her agency, which markets downtown Delray Beach, is focused on increasing "daytime use," meaning office and retail.
Commercial occupancy, Simon says, is "very strong. We are getting lots of calls about leasing." The Atlantic Avenue building with the iPic theater is home to a pair of corporate headquarters: International Materials and financial services firm InspereX. Because of that height limit, Simon says, downtown has fewer options for office space. Sundy Village and Atlantic Crossing are offering some.
Certainly, recent development has rounded out downtown. Two new hotels—The Ray and the Hampton Inn—have given visitors more options. Bookings have been good, Simon says, adding, "Downtown has changed." Pineapple Grove has become "a secondary Main Street." New homeowners are transforming Osceola Park, Cannery Row and SofA. "The Federals," meaning Fifth and Sixth avenues, "are filling in."
Few big pieces of open land remain. Parks at Delray took the largest at that time. Still uncertain is how the Live Local Act will affect Delray Beach. It prohibits commission review of multifamily developments in certain areas. The Legislature passed it to create more affordable housing.
Change, though, clearly will continue. In ways large and small, Delray Beach's boom goes on.
Here's a rundown of key development projects:
Sundy Village
In 2019, Pebb Capital took over the mixed-use project that had been called Midtown. The company renamed it to highlight Sundy House, arguably Delray Beach's most iconic historic property and one of the holdings that once belonged to investor Tom Worrell.
Overall, Sundy Village will include 129,000 square feet of office, restaurant and retail space. It will include the entire block on the southwest corner of Swinton and Atlantic avenues, Sundy House directly south and portions of two other blocks.
Behind the building on Swinton and Atlantic will be historic properties that Pebb is rehabbing and making part of the project. A public walkway, which Pebb calls "The Paseo," will bisect that full block and link it with Sundy House, now closed.
As of late July, Pebb had commitments from two restaurants—Double Knot, which also operates in Miami's Wynwood arts district, and Barcelona Wine Bar, which is now in Denver. Telecommunications provider Vertical Bridge, Rosenberg said, will move its headquarters from Boca Raton to be part of Sundy Village. So will Pebb Capital.
For Sundy House, Pebb plans a "reintroduction" that will "really up the level of, call it, the culinary game" in Delray Beach. Rosenberg would not disclose names, but he hopes to announce the new operator "in a few months." Sundy House will remain a hotel and an event venue.
Construction on the parking garage began in March, with completion scheduled for October. Work on the buildings is set to begin in April with a move-in date six months later. Sundy Village will be the centerpiece of the Old School Square Historic Arts District.
A Compromising Situation
Does Sundy Village offer a lesson in how Delray Beach can grow without sacrificing its appeal?
Todd Rosenberg thinks so.
Pebb Capital, where Rosenberg is president, took over a project previously known as Midtown that many residents disliked. They thought the Midtown plan didn't value the historic properties that are part of the project. The city commission approved Midtown in March 2018 after a nine-hour meeting that featured open negotiations between the developer at the time and then-Mayor Cary Glickstein.
Four years ago, Pebb acquired the seven acres for $40 million. First off, Rosenberg recalls, "We looked at the hearings. We asked, 'What was contentious?'"
As it turned out, Pebb didn't like the concept, either. "We thought, 'Maybe we're more aligned with the public,' and that was a good thing."
Pebb then made changes, assuring preservationists—a vocal slice of the city—about the historic properties. They will make up a prominent part of the project, along the walkway that Pebb calls The Paseo.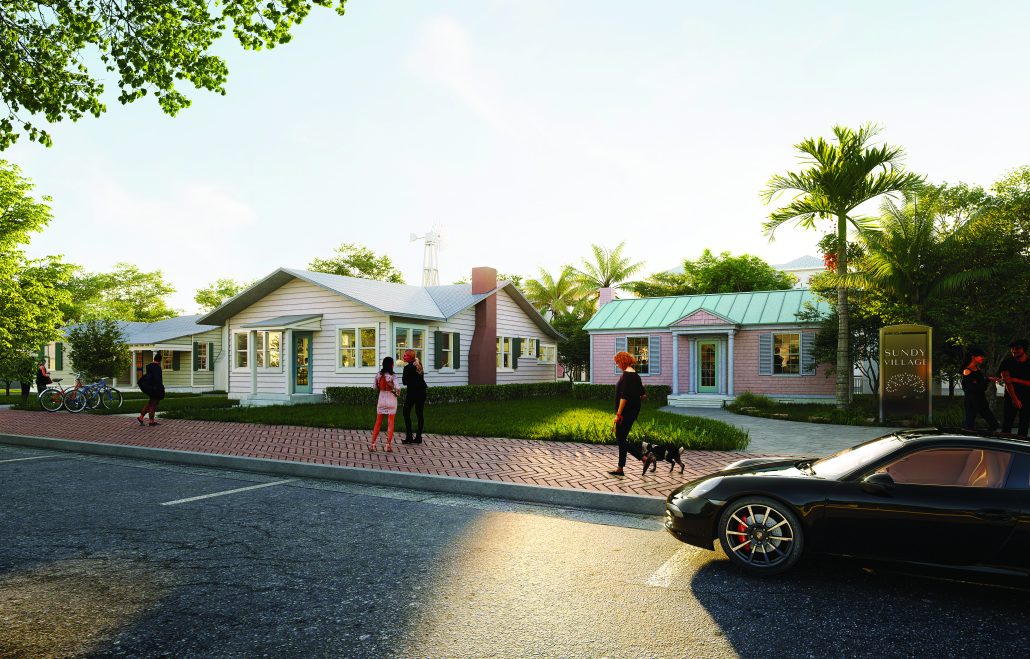 A Pebb representative says, "The approach to the development changed from a commercial project with a historical element to a historic project with a commercial element." Pebb based the main building—at Swinton and Atlantic avenues—on the Cathcart house, which was built in 1902. Pebb took out the residential component and reduced the retail, to allow more restaurants and offices. The underground parking garage got smaller.
"We decreased the intensity," Rosenberg says. Of the opponents, Rosenberg says, "They had to trust us not to pull the wool over their eyes."
Without private investment, cities wither. Excess development, however, can destroy a city's character. Speaking of the continuing popularity, Rosenberg says, "You live here, whether you like it or not. That's the push and pull. There's definitely a psychological component" when seeking approval for a project.
When Sundy Village opens, Rosenberg says, "There will be more than there was but less than what we could have built." Sounds like a good compromise.
Atlantic Crossing
It's been nine years since the city commission approved what will be a $300 million mixed-use project on the two blocks west of Veterans Park. Ohio-based Edwards Cos. will revive what had been a fading section of downtown Delray Beach and better connect both sides of the Atlantic Avenue Bridge.
In mid-summer, the project's first phase was complete except for a second apartment building. Phase I covers the block between Sixth and Seventh avenues and includes apartments, stores and offices. There's also a pedestrian promenade on Sixth Avenue. Completion is set for January.
According to an Atlantic Crossing representative, the first apartment building is nearly full. All office space has been leased. Most of the retail is leased, and the tenants include three restaurants.
Demolition has begun for Phase II. It will feature condos along with more retail and office. Phase II will have three buildings and two garages. Edwards estimates completion in 2027.
Edwards touts Atlantic Crossing as the city's eastern gateway. Downtown Development Authority Director Laura Simon calls the project "a really big deal. That area had been quiet for so long."
The Linton
This Menin project will add 277 apartments. The interesting aspect is that they will replace two commercial buildings on Linton Boulevard just west of Dixie Highway.
According to studies, traffic actually will decrease in that busy area, because housing generates less traffic than retail. The project could be a model for developers seeking to repurpose other underperforming shopping areas.
Delray Beach Market
Also a Menin project, it was highly touted as a foodie paradise when it opened in 2021. But Jarjura says pandemic-era issues overwhelmed small vendors who were most of the tenants. The food hall closed last January.
Jarjura says construction is underway to accommodate larger tenants in the 150,000-square-foot space. Bounce Sporting Club will fill the north end, and Menin is seeking another tenant for the south end.
Parks at Delray Beach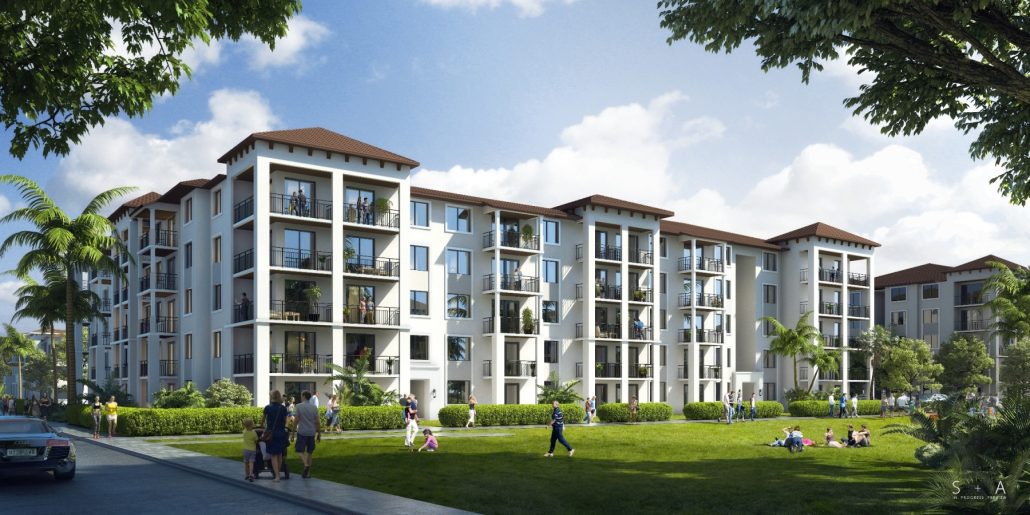 This mixed-use project is a joint venture involving Key International, 13th Floor Investments, CDS Holdings and Wexford Capital. It is going up on the roughly 40-acre South Congress Avenue site of the former Office Depot headquarters that had been vacant since the company moved to Boca Raton in 2008.
Phase 1 of the residential component began this year. It will have 420 rental units and open next year. Phase 2, with another 327 units, will start next year. The companies expect the residential work to be complete in 2025.
In addition, Parks at Delray will have 40,000 square feet of retail—oriented around a grocery store—and 68,000 square feet of office space. To appreciate the size of the project, the city in March negotiated a fee of nearly $1 million to handle the projected fire-rescue calls.
Congress Avenue
Parks at Delray is the largest, but not the only, multi-family project approved for a part of Delray Beach that the city long has targeted for redevelopment.
Delray Central (277 units) and Alexan (267 units) are just north of Parks at Delray. Aura Delray, near Atlantic High School, will bring 292 units. All those projects will have affordable housing components.
City officials also would like the county to redevelop its dated government complex around the Tri-Rail Station on Congress Avenue just south of Atlantic Avenue. Delray Beach's consultants recommend that it become a transit-oriented development with housing.
The Set
The biggest player in the northwest and southwest is the community redevelopment agency. Executive Director Renee Jadusingh says the CRA's current focus is Northwest Fifth Avenue, which once was the area's business corridor and is home to the Spady Museum. Two CRA-seeded projects seek to spur commercial investment along the historic spine of the West Settlers District.
A much larger investment will come with the Northwest Neighborhood Improvement Project. It will pump roughly $75 million into road, alley and sidewalk improvements west of Swinton to Interstate 95 and between Atlantic Avenue and Lake Ida Road.
It is the second such project, the first having been for Osceola Park. It will take place in three phases, with completion scheduled for 2030. After that will come a similar program for the Southwest neighborhoods.
The other major project is redevelopment of Pompey Park. The project, which will be done in nine stages, is out for bid. Completion is scheduled for 2025. Because of delays, the cost is now roughly $40 million.
In 2019, the CRA signed a contract with a developer for the three blocks west of the Fairfield Inn. The CRA terminated the contract because of delays that the developer blamed on the pandemic. There is no new plan for the property.
Old School Square
The Downtown Development Authority, which has a contract to operate the complex until Sept. 30, 2024, hopes for a packed schedule of exhibitions at the Cornell Museum and outdoor events by high season. There are no plans to reopen Crest Theatre this year.
Golf Course
Last spring, the commission rejected the idea of allowing development on a portion of the course and using the money to renovate it. There was strong community opposition to the proposed public-private partnership.
At deadline for this article, the commission was planning to hold a workshop meeting to hear ideas from a citizens' group. The commission also was preparing to review the maintenance contract, given the terrible condition of the course.
Finally, the city might designate the course as historic and apply for a grant. "That will depend," Boylston says, "on how much we decide as a city we want to put into the course."
Doc's All American
The iconic burgers-fries-shake joint will reopen as part of the project that combines the Doc's site with the adjoining property on West Atlantic Avenue. It will be across the street from Sundy Village.
This article is from the November/December 2023 issue of Delray magazine.